Auto CPAP Point2 Hoffrichter with Aquapoint2 Humidifier and Nasal Mask Mirage FX
The product is not available anymore!
Auto CPAP Point2 Hoffrichter with Aquapoint2 Humidifier and Nasal Mask Mirage FX
Point 2 Auto CPAP
Within a certain pressure range the device automatically controls the therapy pressure depending on the occurrence of respiratory events. In sleep phases with no events the therapy pressure is lowered. Starting obstructive events are treated effectively with a slight pressure increase. For a high therapy comfort the therapy pressure should always be only as high as necessary and as low as possible.
Features:
3 FLEX-Levels separately for in- and expiration

Data management on SD-Card

Remarkable low noise level

Battery operation possible

Tidal volume display
The device can recognize the following respiratory events:
Obstructive apnea

Hypopnea

Central apnea

Snoring

Normal respiration

Increased airway resistance
The identification of the different respiratory events is achieved via 3 channels:
Measurement of any constriction of the respiratory tract

Detection of flow limitations by measuring the flow

Detection of snoring with the help of sound detection
The combined analysis of all results facilitates a very precise differentiation between obstructive and central events. The device adjusts the therapy pressure according to the detected events as described below:
Increase of pressure for obstructive events

Decrease of pressure for central events and normal respiration
Specifications:
Range

Steps

Point2
Auto CPAP

Pressure

4 hPa – 20 hPa

0.5 hPa

P-Ramp

4 hPa – Pressure - IPAP

0.5 hPa

P-Min

4 hPa – P–Start

0.5 hPa

P-Max

P–Start – 20 hPa

0.5 hPa

P-Start

P-Min - P-Max

0.5 hPa

I-FLEX

0 - 3

1 step

E-FLEX

0 - 3

1 step

IPAP

EPAP – 20 hPa

0.5 hPa

EPAP

4 hPa – IPAP

0.5 hPa

I-Slope

1- 3

1 step

E-Slope

1- 3

1 step

Frequency

5 – 30 bpm

1 bpm

I:E

20 - 80 %

1 %

Delay time

0 - 20 s.

1 s.

S- Frequence

Mask

Nose/Nose- Mouth/Pillow

Start-Stop Automatic Calibration

Start via ENTER

Automatic

Start-Stop/Start/Off

10 min.

Mask Test

0 - 90 s.

5 s.

Ramp

0 – 45 min.

5 min.

Display Vt

On / Off

Bacterial Filter

Yes / No

Brightness

0 - 100 %

10 %

Language

deu, eng, ell, spa, fra, ita, nld, tur, plk, por, cze

P- Unit

Hpa/mbar/sm H2O

Power

Counter

Blower

Counter

Filter

Counter

Therapy

Counter

Date

Day-Month-Year

Time

Hour-Minute

Waketime

Hour-Minute



Technical Data:
Dimensions:- 170 mm x 220 mm x 95 mm

(W

x L

x H

)

Mass:- 1.51 kg
Power supply:- 100 V - 240 V AC, 50 - 60 Hz
Power consumption- < 17 W
DC operation - 24 V DC / 2.1 A (max.)
Battery operation - 2 x 11.1 V / 2200 mAh
Pressure range - 4 - 20 hPa (mbar)
Pressure variation- < 0.5 hPa without humidifier; < 0,9 hPa with humidifier
Noise level - < 30 dB(A) at 10 hPa
Functions:
Counters- stand-by time, turbine running time, therapy time, filter age

Permanent display- pressure, bargraph, Date, time, softstart ramp, alarm clock tidal volume (Vt), battery charging symbol, pressure unit (hPa, mbar, cmH 2O)
Comfort functions- start-stopp-automatik, softstart ramp, leakage test, mask calibration, flex pressure adjustment I-Flex / E-Flex, automatic start after power failure, date-, time and wake-up function, mask alarm.
SD-Card
| | | |
| --- | --- | --- |
| Therapy data | Internal | SD card |
| Central apnea, obstructive apnea, mixed apnea, hypopnea | saved | saved |
| Airway constriction, snoring, hyperventilation | saved | saved |
| Leakage | saved | saved |
| Base Pressure | Only saved, when I- Flex or E- Flex are selected, but not active | Only saved, when I- Flex or E- Flex are selected, but not active |
| Therapy Pressure (low resolution). No FLEX pressure changes visible | saved | not saved |
| Therapy Pressure (high resolution), respiration flow, relative respiratory volume. FLEX pressure changes visible | not saved | saved |
| Storage Time | </= 30 days | </= 2 years |
Aquapoint 2
Dimensions-(w x l x h) 100 mm x 145 mm x 109 mm
Mass approx.- 280 g (without water)
Power supply- 24 V DC
Power consumption- 0 - 22 W
Heating levels- 5 stages + off
Max. filling capacity- 220 ml
Powerpackpoint 2 (Not included)
Dimensions- (w x l x h) 160 mm x 45 mm x 70 mm per battery
Mass approx.- 300 g per battery
Power supply- 11.1 V DC per battery
Capacity- 2200 mAh per battery
Filtersystempoint 2
Dimensions- (w x l x h) 153 mm x 45 mm x 31 mm
Mass approx.- 50 g
Coarse filter- Polyurethan on polyester based 80 ppi (pores per inch), 30 kg/m³ (material density)
Fine filter- Polypropylen Precipitation of particles ≥ 1 µm: ≥ 89% at ω ≤ 1 m/s (particle velocity) ≥ 99% at ω ≤ 0,2 m/s (particle velocity)
Aquapoint2 Humidifier
The aquapoint 2 is a plug-in warm-air humidifier for the respiratory therapy device point 2. It is intended to humidify the therapy air flow, in order to prevent the mucous membranes of the upper respiratory tract from becoming dry. The heater output can be adjusted in stages from 0 to 5, as required by the patient's individual demands. The aquapoint 2 is provided with an integrated memory ensuring that the previously set heater stage will be preserved after the therapy device has been turned off or the humidifier has been disconnected from the therapy device. In addition to normal APAP and CPAP mode the device offers the FLEXLINE mode, a pressure increase which is proportionate to the individual respiration flow during inspiration and a pressure decrease during expiration.
Nasal Mask Mirage FX ResMed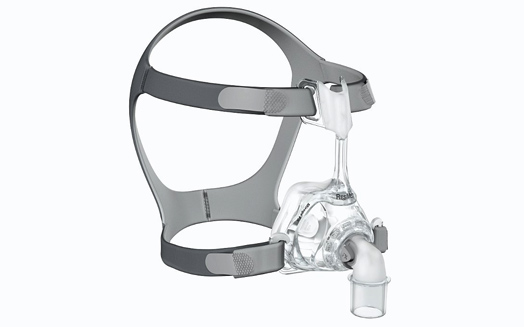 Noticeably light weight and easy to disassemble for cleaning, the Mirage FX was designed with the user in mind. With fewer contact points, a softer headgear, and a balanced pressure design this mask takes a step forward in comfort.

Only 4 parts. The Mirage FX minimalistic design only has four parts to make cleaning and maintenance easy: the headgear, the frame, the cushion, and the quick-squeeze elbow.

Butterfly Wing Forehead Support. The forehead support is designed to easily flex to the needed position for a better fit. This design also only allows the headgear and not the plastic to come in contact with the skin.

Squeeze-Tab Elbow. This design is long in coming for CPAP masks. The squeeze-tab elbow makes connecting and disconnecting the hose to the mask a breeze. Just squeeze the sides of the elbow to release the hose. No more worrying about finding the right clips in the middle of the night.

Dual-wall, Spring Air™ Cushion. This cushion is designed to provide even air pressure distribution through all sides in order to reduce pressure points. The cushion also provides extra softness for the bridge of the nose.

Diffused Vent Design. The air vents are designed for quiet and gentle air diffusion to reduce noise and discomfort for a bed partner.

SoftEdge™ Headgear. The headgear is soft to the touch and is designed to help provide a fit through the night.
Related products