Auto CPAP device BMC RESmart with heated humidifier InH2 GII and nasal mask iVolve
Auto CPAP device BMC RESmart with heated humidifier InH2 GII and nasal mask iVolve
RESmart GII Auto (APAP) adopts advanced sensor technology, automatically tracks patients' respiratory. The intelligent control system provides patients with reliable therapy of Obstructive Sleep Apnea (OSA).
Reliable stability
Innovative tracking technology ensures accurate and comfortable therapy

Unique sensitivity setting offers individual therapy algorithm, makes every user get the most comfort

Ramp capabilities allow a 0-60 minutes time period with adjustable ramp starting pressure

Auto on/Auto off

Alert when accidental power off

In time alert function when mask/tubing off line

Automatic leakage and altitude compensation

Unique Delay-off feature protects RESmart from humidity hazard

iCode feature (Web based, Smartphone App) provides the most convenient remote retrieval of sleep data

One button to review the treatment information of last day
Ergonomic design
3.5-inch Color LCD Display;

With an exquisite control knob

SpO2 Kit Blood oxygen saturation and pulse rate can be clearly seen during the course of therapy Eco Smart Technology. Eco Smart heating system with innovative dual water chambers design, Storage Chamber VS Heating Chamber
Optimum Humidity and Temperature are delivered to patient after traveling through the heating chamber. Accurate water quantity control, with real time compensation from Storage Chamber. Eco Smart warm up, high efficiency, lower water bills. iCode Compliance Data is encoded by QR code. Google play and APP store apps are available. High reliability-recognition rate up to almost 100%. High performance- high recognition speed.
Technical data Dimensions:
Dimensions:
170 × 196 × 118 mm;

290 × 196 × 134 mm (with humidifier)
Weight:
< 1.5 kg;

< 2.5 kg (with humidifier)
Mode of Operation:
Work Mode
SD Card:
capacity ≥2G

the SD card can record patient data and fault information. Furthermore, the language pack stored on the SD card enables you to change the language of the device.
AC Power Consumption:
100 - 240 V AC, 50/60 Hz, 2.0 A max
Type of Protection Against Electric Shock:
Degree of Protection Against Electric Shock:
Degree of Protection Against Ingress of Water:
Pressure Range:
4 to 20 hPa(in 0.5hPa increments),

≤30 hPa under single fault conditions
Pressure Display Accuracy
Ramp:
Sound Pressure Level:
<30dB, when the device is working at the pressure of 10 hPa.
Sound Power Level:
<38dB, when the device is working at the pressure of 10 hPa.
SpO2
Pulse Rate:
Wavelengths
Red: 663 nanometers

Infrared: 890 nanometers
Maximal Optical Output Power:
Less than 1.5 mw maximum average
Tube:
Heater Settings:
1 to 5(95 to 167°F/ 35 to 75°C)
Maximum Operating Pressure:
Pressure Drop with Humidifier:
Simple to use Easy to fit

iVolve N2 nasal mask is innovative, extremely simple and designed for easy fitting. Its lightweight design and small profile make it a perfect mask for patients looking for a lighter and less obtrusive mask. The N2 has quiet venting and very soft silicone cushioning to improve patient comfort.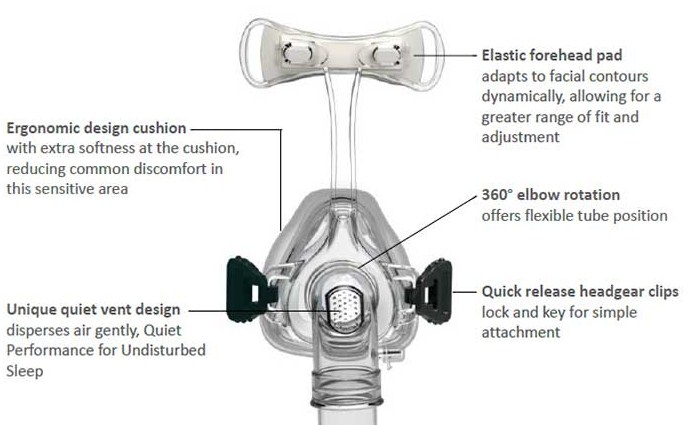 Related products