Auto CPAP device BMC RESmart with heated humidifier InH2 and nasal mask iVolve
Auto CPAP device BMC RESmart with heated humidifier InH2 and nasal mask iVolve
RESmart Auto (APAP) adopts advanced sensor technology, automatically tracking patients' respiratory condition.
The intelligent control system provides patients the reliable therapy of Obstructive Sleep Apnea (OSA).

Professional precision
Innovative tracking technology ensures accurate and comfortable therapy.

Unique sensitivity setting offers individual therapy algorithm, makes every user get the most comfort.

RESlex performs better exhalation and compliance.

Inspiration trigger for auto start-up

Automatic stop after put off mask

Alarm when accidental power-off

In time alert function when mask/tubing off-line

Automatic leakage and altitude compensation ensure the therapy accuracy anywhere.


Ergonomic and powerful design
Integrated and knock-down designed InH2 heated humidifier.

DC 24V powered and infrared controlled humidifier make user safe and comfortable.

Smart Heater automatic restarts after short term break.

Patented anti-countercurrent water tank.

Unique Delay-off feature protects RESmart Auto from humidity hazard.

Powerful embedded memory stores last night's full raw data, 365 nights' user Blog and more than 30 years' therapy record.

User Blog direct output via portable thermal printer.



Technical Specifications
Dimensions:
220 × 194 × 112 mm

313 × 194 × 112 mm (with InH2 heated humidifier)
Weight:
< 1.6 kg; < 2.4 kg (with InH2 heated humidifier)
Standard Compliance
IEC 60601-1 General Requirements for Safety of Medical Electrical Equipment

ISO 17510 Sleep Apnoea Breathing Therapy
Mode of Operation:
AC Power Consumption:
Type of Protection Against Electric Shock:
Degree of Protection Against Electric Shock:
Degree of Protection Against Ingress of Water:
IPX1 – Drip-Proof, Vertical
Pressure Range:
4 to 20 hPa (in 0.5 hPa increments)
Pressure Stability:
Sound Pressure Level:
< 30 dB,when the device is working at the pressure of 10 hPa
Maximum Flow:
Pressure Display Accy.:
Humidifier InH2
Heated CPAP humidifier BMC InH2 for RESmart devices, to tackle the dryness of the nose, mouth or throat. Also tackles symptoms such as runny nose, irritated eyes and sneezing.
InH2 CPAP humidifier features 5 adjustment levels for optimum fit and comfort of the user.
Simple to use Easy to fit

iVolve N2 nasal mask is innovative, extremely simple and designed for easy fitting. Its lightweight design and small profile make it a perfect mask for patients looking for a lighter and less obtrusive mask. The N2 has quiet venting and very soft silicone cushioning to improve patient comfort.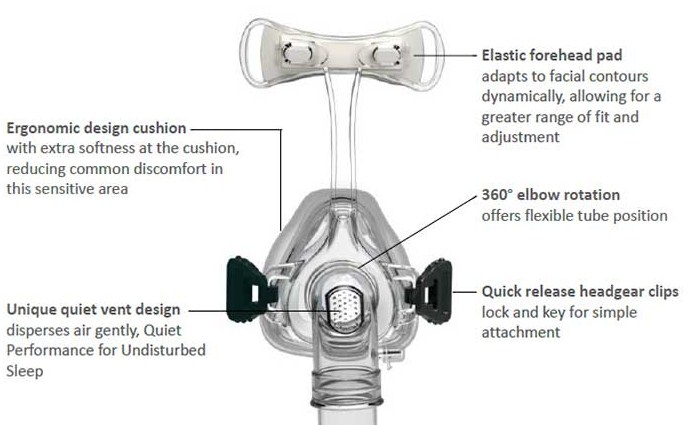 Related products