The stabilization apparatus is designed to place the foot in middle position and to prevent rotation in the pelvis joint. It is equipped with a sanded aluminum foot rest. Foot and leg are supported by stabilizing belts, in front of the apparatus there is a de-rotation triangle which enables full control of pronation of the lower limb. Apart from protection from rotation, there is also a possibility to adjust the bending of planta thanks to side regulation.

Single size
Easiness of usage- the apparatus stabilizes the foot and lower limb, allows for free breathing of the skin, the padding protects the foot from sores.
Comfort of usage- it is made of skin-friendly fabrics, does not cause abrasion and absorbs sweat well.
Perfect stabilization- additional stabilization: foot-drop prevention and prevention from rotation in the pelvis.
palsy and paresis of lower limbs
after orthopedic treatment of lower limb
in early rehabilitation
after injuries of lower limbs and during rehabilitation
during long-term treatment
after replacement of hip joint
fresh wounds
excoriations
skin eczema
skin allergy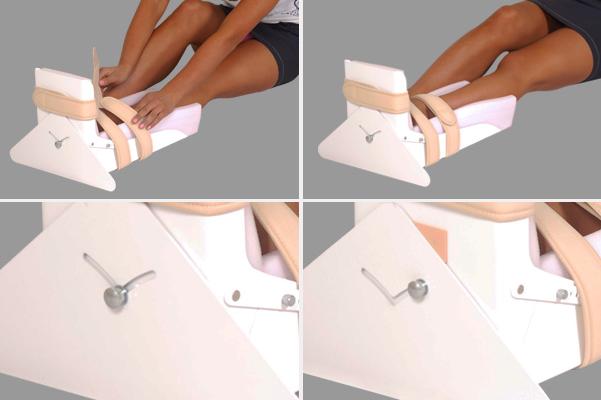 Information For Patients:
Use strictly under the doctor's supervision
The product should be adjusted on the patient for the first time by the doctor or qualified medical staff.
Luck of everyday personal hygiene or wrong maintenance and washing of the product may cause excoriations or allergic reaction connected with increased sweating and bacterial flora.
Sponge and stabilizing belts should be hand-washed in warm water and soap in 30° temperature
Do not iron
Do not use chlorine
Dry far from the sources of heat