Lumbosacral brace STEFDA helps to relieve the lumbar pain and prevents against muscles cramps. It is made of unique spatial material called ActivExpanse.
Double-layer construction with 3D structure allows to fit device to the patient's body precisely and maintain adequate abdominal and back muscles compression. Internal side of the brace is made of terry what makes it very friendly for skin because of sweat evaporation and doesn't cause chafes and lesions. External side is 3D structure, made of soft but durable polyamide and spatial construction with holes system what allows to remove sweat from the patient's skin.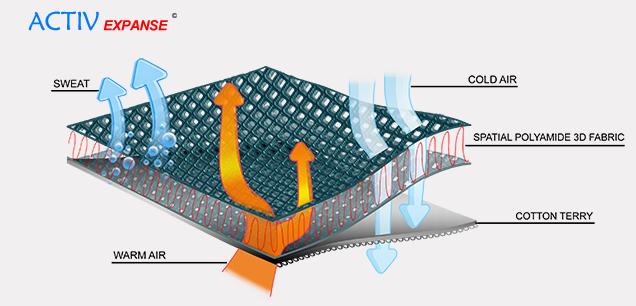 In addition, there is rear compression system TapeLacing, which allows to set adequate compression. This system is mounted with Velcro straps what adjust the device to the patient's body precisely. The wide non-elastic circumferential strap is stabilizing element which adjusts pressure in L-S part of the brace. AS-LK-02 stabilizes lumbar spine by supporting the abdominal muscles. By maintaining the constant temperature and elastic pressure it relieves the pain caused by stress, injuries or degeneration. Brace is especially recommended for athletes, because of breathable material.
abdominal and lumbar muscles strains caused by injury or stress
in physical activity as an support of the lumbar spine and muscles
in chronic L-S syndrome

TLS – TapeLacing Compression System
TapeLacing Compression System was created to adjust the best joint support and stabilization. The system allows to adjust different levels of compression according to patient's needs. This adjustment is smooth what provides comfort of use the brace.
The TLS System is a combination of metal grommets, nylon tapes and Velcros. The additional equipment is the special element that is easy to attach what allows to modify device's shape or circumference. You can achieve required compression with a single pull strap. One easy pull securely forms the brace to the patient's torso and provides intra-abdominal compression, reducing the load on intervertebral discs.
TLS System is the compression solution so you can use it only after putting the brace on the body.

ATTENTION: Our TapeLacing Compression System is very effective with big interaction strength so it's necessary to use it with caution.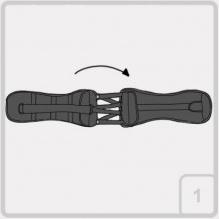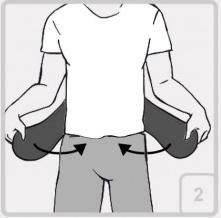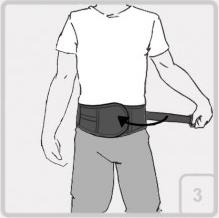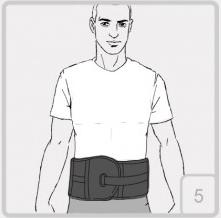 Information For Patients:
Only properly selected, fitted and used support fulfils its function – incorrect use may cause increase of problems with the joint, skin abrasion, problems with walking, swelling, vein inflammation - instruction regarding use of the support is given by the leading doctor of therapist.
The support should be applied on top of a cotton t-shirt to prevent skin abrasions, burns. In case of patients with paraesthesia, in early stage of use, when the room temperature is high it is necessary to frequently control patient's skin condition in the place where the support is applied.
Long term use of the support may lead to decline of muscles – the longer the support is used during the day the more advisable is to do regular exercise to strengthen the muscles. Exercise is individually selected for the patient by the physiotherapist or the leading doctor. Strengthening of the muscles may lead to less frequent need to use the support;
In case of long term use of the support – it is advisable to reduce the time of the use during the day to minimum;
The support should be removed during meals, directly after the meal or consumption of bigger amount of liquid;
Skin must be clean - no kind of cream, poultice, ointments etc should be used before the application of the support;
Wrong maintenance of the product, insufficient washing and rinsing may lead to skin abrasion, rushes, allergic reactions connected with excessive sweating under the support