Product description

Made of cotton, assures immobilization and support of the upper limb. It can be used for left and right arm. It stabilizes and releases pressure from the arm, shoulder and elbow joint. It can be used together with other supports and plaster cast. It enables passive, approved by the doctor exercise of the arm.
Available sizes

strong pain in the shoulder joint (temporary protection)
dislocation of the joint
injury to the soft tissue of the shoulder and arm
surgery of the shoulder or elbow (not requiring plaster dressing)
in case of necessity to support or partially fix the upper limb (broken neck of humerus bone and plaster dressing)
after removal of the plaster dressing, as stabilization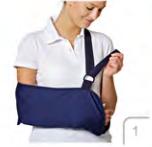 fresh wounds
excoriations
skin eczema
skin allergy
in case plaster dressing is required.
Attention: Do not use the stabilization in case of injuries which require better stabilization eg. plaster dressing of surgery.
Information For Patients:
If possible wear cotton t-shirt under the device
Use strictly under the doctor's supervision
The product should be adjusted on the patient for the first time by a doctor or qualified medical staff.
Do not use the device directly after usage of cream or worm-up gel
Luck of everyday personal hygiene or wrong maintenance and washing of the product may cause excoriations or allergic reaction connected with increased sweating and bacterial flora.
Hand-wash in warm water and soap in 30 temperature
Do not iron
Do not use chlorine
Dry far from the sources of heat