UPPER LIMB SUPPORT AM-KG-AM/1RE
ELBOW IMMOBILIZER WITH HAND SPLINT AND ADJUSTABLE ROM
Elbow Rom Brace AM-KG-AM/1RE was developed to provide full stabilization of the upper limb, including elbow joint, wrist, carpus, metacarpus, phalangeal and interphalangeal area.
The Eblow Rom Brace is made of innovative material ACTiVDistance III. Four layer fabric is composed of;
-Autoadhesive fabric
-Isolating Foam
-Comfort Foam
-100% Cotton Terry Cloth
Upper limb support AM-KG-AM/1RE

The Orthosis is provided with Splint Mod. 1RE- single axis, Range of Motion- regulation each 15º increments, hyperextension -15º and -30º.
The characteristics of Splint 1RE- provides full stabilization of Elbow Joint, ultra-light weight, the regulation of range of motion is obtained WITHOUT USE of any additional tools, splint safety system prevents unauthorized adjustments of the flexion and hyperextension.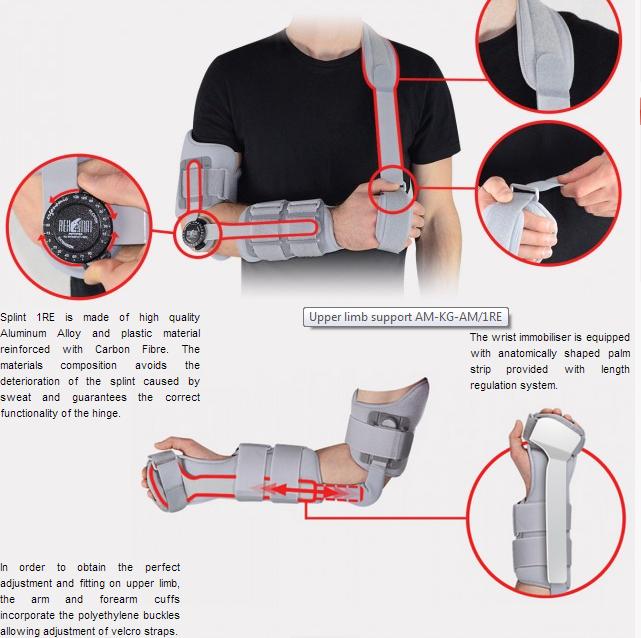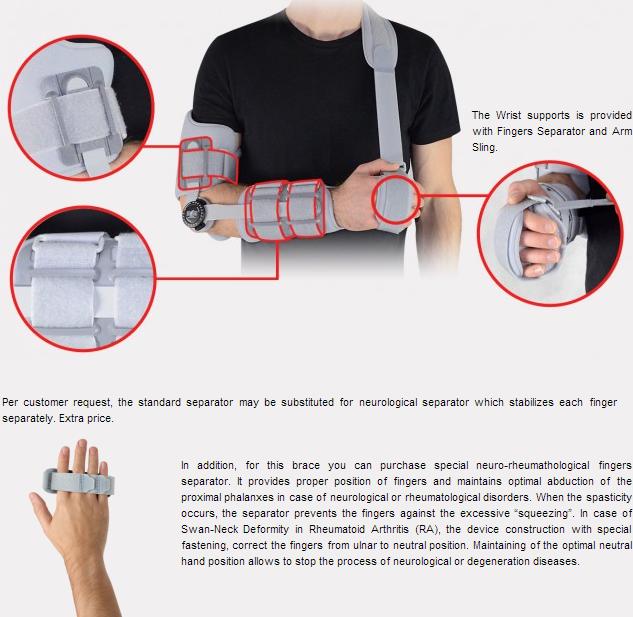 Left/right side available.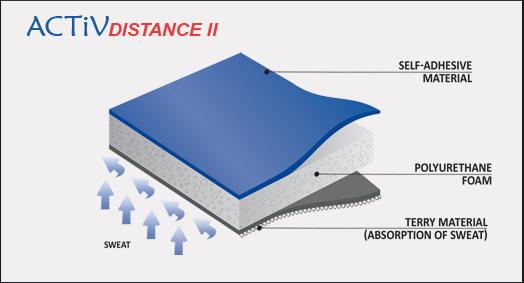 The wrist support contains the wrap-around stabilization strap on fingers. The arm sling supplied with the brace is additionally equipped with comfortable pad on shoulder.
Elbow instabilities
Medial or Lateral Epicondyle Fractures
Postoperative care after prosthesis implantation
Postoperative care of elbow ligament instabilities
Conservative treatment of elbow luxation or dislocation including wrist
Contractures with or without radial or ulnar
Rheumatoid arthritis
During rehabilitation process
Central or Peripheral neurological injuries

Ergonomic single axis orthopaedic splint. The splint contains adjustment of the flexion and extension angle every 15° and over-extension adjustment in the joint in the range: – 15° and -30°. The splint is characterized by perfect lateral stabilization and very low weight. The adjustment of the angle can be done without any tools, the system is additionally secured so the angle can't be changed by an unauthorized person. The splint is made of high quality aluminum alloy and plastic with carbon fibre, therefore it is light and resistant to sweat and salt, properly firm and assuring correct functioning of the product. The splint and its design have been patented in the European Union by our Company.

fresh wounds
attritions of skin
skin eczemas
skin allergies
varicosity
ulceration of shin
Information For Patients:
It should be applied in compliance with indications and under doctor's supervision.
For the first time should be established by doctor or by trained medical staff.
Orthosis should not be used if any ointment or warming up gel had been applied earlier.
It is recommended to use the article together with stocking or antivaricose knee-length socks of minimum compression.
Inappropriate use of article or choosing wrong size can bring about a defect of venous and arterial circulation, trauma of protected joint, skin illnesses etc.
Lack of everyday personal hygiene or inappropriate preservation and washing the article can cause skin attritions or can bring about allergic reactions connected with intensive perspiration and development of bacterial flora.
Wash by hands in warm water with soap in temperature of 30°
Do not mould.
Do not chlorinate.
Dry away from sources of warmth.