Product Description:
Dynamic functional hand and forearm support with finger separation was developed for positioning treatment and immobilization of contractures of wrist, radiocarpal joint, hand and fingers.
Dynamic functional hand and forearm AM-SDP-K-01The fitting of the Functional Wrist Orthosis is obtained by 3 sets of Velcro tapes; forearm, wrist and palmar strap. The product is equipped with soft padding provides comfort to the patient. The extensive regulation of the brace allows easy adjustment on each anatomy of forearm and wrist.
Dorsal band on fingers provides support for phalangeal area. The product is supplied with soft finger separator which prevents to fingers overlapping, anti-spasticity, relieves pain fingers and keep them in correct position.
Per customer request, the standard separator may be substituted for neurological separator which stabilizes each finger separately. Extra price.
Dynamic functional hand and forearm AM-SDP-K-01The orthosis is made of innovative AirSanmed non-elastic textile, which properties allowing an improvement in stabilization level of the joints. The orthosis is covered with perforated medical laminate allowing easy evaporation of the sweat, semi-rigid perforated comfort foam located inside and a breathable cotton terry cloth in contact with the skin of the patient.
The internal frame of the brace is realized following an innovative construction, made of aluminum with different degree of plasticity connected with rods. The frame is totally laminated by soft foam. The new technology applied in Functional Braces, allows the easy adjustment on upper limb, WITHOUT use of any additional tools or heat guns. Thanks to the open work construction and frame properties, the fitting and adjustment is possible to be made even in medical consultations, by doctors or physiotherapists.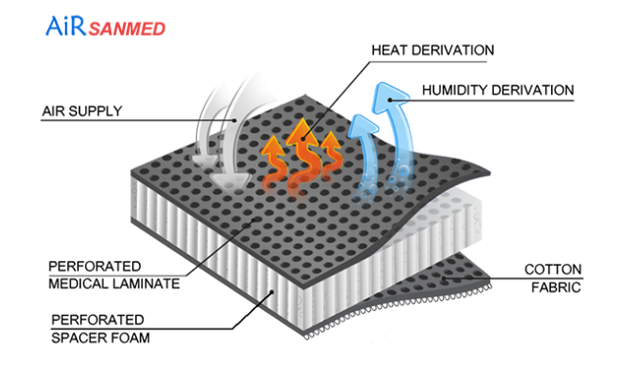 fresh wounds
attritions of skin
skin eczemas
skin allergies
varicosity
ulceration of shin