Wrist and thumb support AS-N-02
Support of upper limb – Wrist and thumb support AS-N-01
Product Description
The carpometacarpal joint of the thumb, called saddle joint, is one of the most movable joints in human body. Because of that, it is prone to injuries and conditions. The joint incorporates 5 movement in different planes: abduction and adduction, opposition and retrooposition and circumduction. Sport brace AS-N-02 is created for joint protection. It is made of anatomic glove and equipped with set of elastic straps, which are easy to attach and allow to set thumb in the required position.
If you dream about soft, thin and almost invisible brace with excellent compression during daily activities – choose the device made of PowerFit fabric. This is 3-layered textile that fits to body precisely making 'the second skin' and can be stretched in all directions. External layer is made of spandex that provides excellent compression and it's resistant to the dirt and damage and reduces muscle vibrations. Internal layer is soft and skin-friendly. The innovative construction of PowerFit allows to maintain cool joint even in hot temperature and it heats it in winter. The braces made of PowerFit are the most innovative devices on the orthopaedic market and almost invisible for patient.
The abduction thumb brace holds wrist circumferential strap guaranteeing proper joint compression and 2 elastic tapes, which abduct the thumb. The device enables to set the thumb in the required abduction position. The brace is very easy to putting on and off.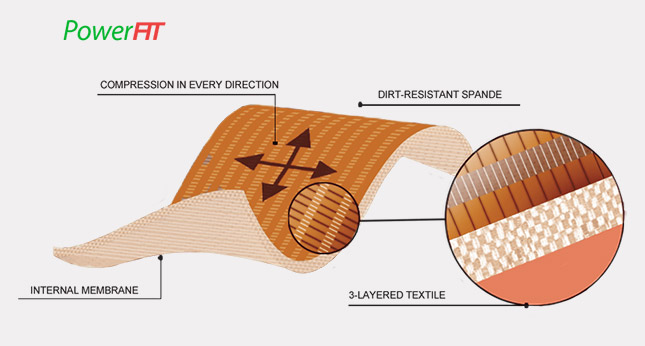 after wrist injuries
bursitis
joint degeneration or inflammation

Information For Patients:
Only properly selected, fitted and used support fulfils its function – incorrect use may cause increase of problems with the hand, skin abrasion, swelling, vein inflammation.
In case of swelling or paraesthesia of arm and hand the support must be removed or loosened
No kind of cream, poultice, ointments etc should be used before the application of the support.
In case of skin changes in places where the support touches the skin (abrasions, injuries, skin eczema) it is possible to use the support after a dressing is applied.
In case of skin allergic reactions due to the use of the support, please contact a doctor.
Lack of personal hygiene or wrong maintenance of the product (insufficient washing and rinsing) may lead to skin abrasion, rushes, allergic reactions connected with excessive sweating and development of bacteria.
Hand wash in 30° warm water with soap.
RINSE THORUOGHLY
Do not iron
Do not use chlorine
Dry far from the source of heat