Product description

Made of ProFit fabric, equipped with elastic, lateral whalebones stabilizing the elbow joint and binding VELCRO tapes for better fit to the limb. There is a possibility to set up the angle of extension of the elbow joint. It stabilizes the joint and releases stress from forearm and arm muscles. Application: after injury (dislocations, muscle and tendon sprains), in pain syndrome of the joint caused by overstress or degenerative changes ("tennis elbow"). Used as prevention in sports causing overstress to the elbow joint.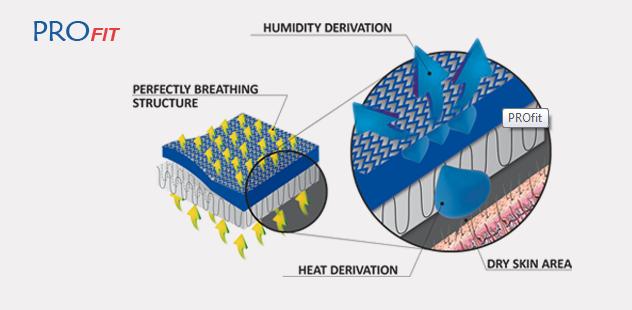 Available sizes


Perfect stabilization of elbow joint, ease of pressure on muscles of forearm and hand, reduction of pain caused by overstress and old injuries. Maintenance of stable temperature and elastic pressure results in reduction of swelling, helps in healing of post-injury effusions and hematoma. Enables faster come back to wok and training. Provides protection in contact sports. Detainment of warmth, preventing body overcooling and overheating, Comfort of use – the support contains no thick fibres which can cause abrasions if pressed firmly on patient's skin. Simplicity of use- simple way to put the support on and take it off by the patient. The design of this support guarantees maximum comfort of use, no movement limitation for both women and men. The product is equipped with fastening tapes which provide additional support to the joint, VELCRO tapes which secure the product from uncontrolled opening.

after injury and treatment of elbow joint and forearm
in chronic severe pain syndrome of elbow joint caused by injury or overstress;
chronic overstress and inflammation of epicondylitis (tennis elbow) – reduction of problems, help in healing process
in sport: injury prevention and to increase the strength of arm in tennis, golf, badminton, team sports
hard physical work connected with rotating movement of fore-arm and hand against resistance.
Setting Up: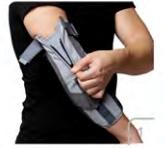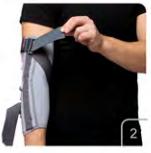 Maintanence:
Hand wash in 30° warm water with soap.
RINSE THORUOGHLY
Do not iron
Do not use chlorine
Dry far from the source of heat