Product description

Straight-holder- clavicular belt is made of non-stretching tapes and back pelotte. The back pelotte is reinforced with PELD plate therefore provides better stabilization in the area between shoulder blades. The connecting belts fit well patient's body. Such design of the product guarantees very good correction of the posture disorders in case of adults as well as children. The design of the back pelotte guarantees that the clavicular belts do not wrinkle but fully stick to patient's body. Inside part of the belt is covered with terry fabric which makes the use more comfortable.
AirRubber III has unidirectional elasticity. It can be stretched, increasing the length, not width, what improves compression. Between the braids air flows freely and skin can breathe. In addition in high compression, these rubber braids provide a gentle massage for skin. Our orthopedic rubber is very friendly for skin.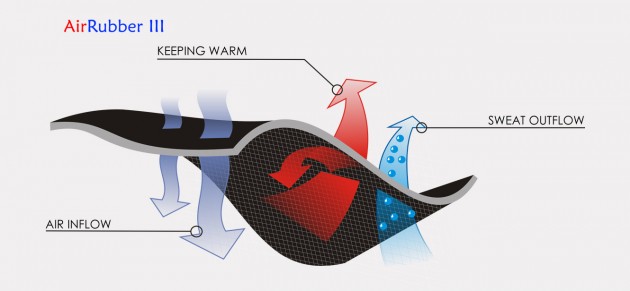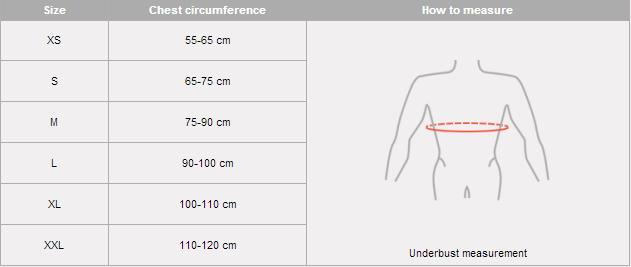 Properties:
Skin-friendly product.
The support is made of light orthopaedic rubber containing mainly cotton which is neutral the skin.
Maintenance of proper hygiene – the suport is very easy to put on and take off, the patient can wash it frequently and maintain proper body hygiene.
Purpose of use:
Shoulder support AM-PES-03:- used in case of children with posture disorders, round back and Pectus excavatum
effective inforcement of correct posture
recommended for adults with discopathy of chest section of the spine
educes pain
Contraindications:
In case of paresis (loss of feeling) of upper limbs the support must be removed. If the problem is repetitive please, contact the doctor,
In case the pain increases during the use of the support please, contact the doctor
In case of skin changes in the place where the support touches the skin (abrasions, injuries, eczema) – use of the support is possible after a dressing is applied – In case of patients with memory disorder and in case of children it is necessary to control the correctness of the use of the support according to the doctor's recommendation
Setting up: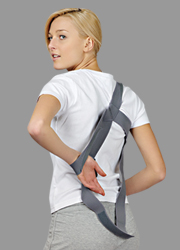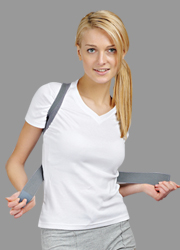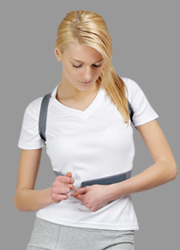 Information for patients:​
If possible wear cotton t-shirt under the device;
Use strictly under the doctor's supervision;
The product should be adjusted on the patient for the first time by a doctor or qualified medical staff;
Incorrect selection of the product (wrong size) or too strong fastening of the stabilizing tapes, may cause temporary problems with intestine activity, other internal organs or problems with breathing;
Luck of everyday personal hygiene or wrong maintenance and washing of the product may cause excoriations or allergic reaction connected with increased sweating and bacterial flora
Maintanence:
Hand-wash in warm water and soap in 30 temperature;
Do not iron;
Do not use chlorine;
Dry far from the sources of heat;