Upper/lower limb passive and active rehabilitation simulator Thera Trainer TIGO
Code:

1998

Weight:
Upper/lower limb passive and active rehabilitation simulator Thera Trainer TIGO
Rehabilitation device - simulator for treatment of spastic conditions, paresis, muscle weakness, joint contractures and others, offering the possibility to choose the level of workload and the mode of work. This 2-in-1 device allows the patient to excercise both the lower and the upper limbs - passive and active excercising. The size of the device allow it to be used by children and young people, too.

Thera Trainer TIGO Basic Equipment:
Anti-spastic function:
The simulator upon detection of spasms and moves in the direction of motion that you originally configured.
The sensitivity of the anti-spastic function can be adjusted.
Control Panel with 2.7 '' Color Display with bright lights.
Additional features
Display holder
Start / Stop Button: With just one touch, you can easily start or stop your workout.
Speed ​​indicator (rpm), power (watt), distance (km), power consumption (kcal), training time (min).
Symmetry Left / Right of the workout: Provides control over left / right movement deficit.
Active muscular support: For harmonious rotation, in case of lateral activity (stroke, amputation).
Entry assistance: For independent positioning of the legs. The footrests always stop at the lowest position.
Legrests: Secure Velcro footrest and safety edge. They can be washed.
Flexible and removable leg support.
Folding joint.
Washing pads.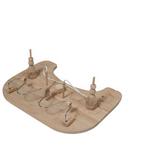 Rollover protection (optional - NOT included in the price): Recommended for home use for increased safety.
Hook Protector, Plastic Coated: For safe remote control. One foot apparatus, two transport wheels and two straps with a clamping mechanism and hooks.
Upper Body Trainer (Passive / Active)
Includes therapeutic grips and hand supports. Recommended for paralysis, spasticity, impaired coordination and contractures.
For passive (device-driven) and active (muscular effort) exercises throughout the upper body.
It works with the control unit in the same way as for the lower limbs.
The tilt of the color display control unit can be adjusted to find the optimal position for the patient.
Tilt and height adjustment.
Ergonomic therapeutic grips and hand supports.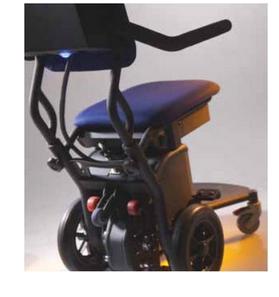 Base with transport wheels

The large wheels on the user side provide the opportunity to change the space between the user and the device.

200 watt motor

Very powerful, sturdy, extremely quiet and durable, with harmonious rotation.
Weight - 25 kg.

Designed for users with a maximum weight of 120 kg.

This product is shipped only upon pre-order and prepayment!