Positioning chair for children with disabilities JORDI
The JORDI positioning chair is an excellent paediatric therapy chair for children with special needs. This chair is perfect for school, home and care environments. The cahir comes with tilt-in-space-function and a wide range of adjustments (height, depth, width). It is available in 4 sizes and you can choose from a range of optional accessories to suit each individual's needs.
The new Jordi positioning chair from Akces Med is a paediatric positioning school chair for children with special needs. It is great for therapy and for fun as well as other daily activities such as learning or eating meals. The chair can be used in a wide range of environments e.g. at home, in school or care environments.
Key Features
Stable Structure;
The device ensures adequate stability and safety of Patient;
Eco-friendly materials;
We use only human and environment friendly materials;
Tilt-in-space functionl;
The device is able to change hip angle.
Range of adjustments



Seat height, width and depth
We offer 24 months warranty on the product. We also provide after sales service.
Easy to use

Intuitive way of adjustment and easy assembly.
Hold and pull



Our harnesses and pelvic belts are equipped with Hold and pull system that provides fast and comfortable support your child in the device.
Standard equipment



Pelvic belt
Adjustable tilt angle backrest
Adjustable height and tilt angle armrests
Adjustable depth seat
Height adjustable legs
Hip angle adjustment
Medical upholstery
Standard colour – Sea Blue
Choose from a range of optional colours
Choose from a range of accessories



Joy table
Foldable footrest
Safety harness
Hip guides
Hexagon Pro headrest
2 point feet stabilizing belt
5 point feet stabilizing belt
Knee abductor
Lateral supports
Abduction block
Castors with brakes
Push handles
Tray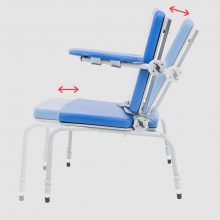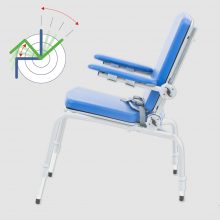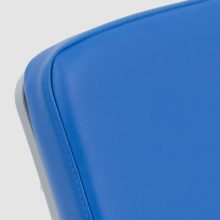 Rotation angle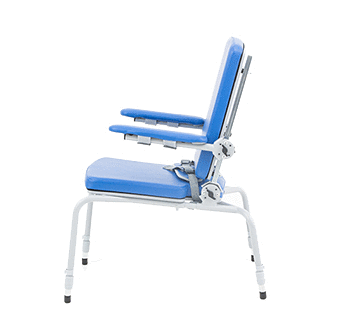 Sizes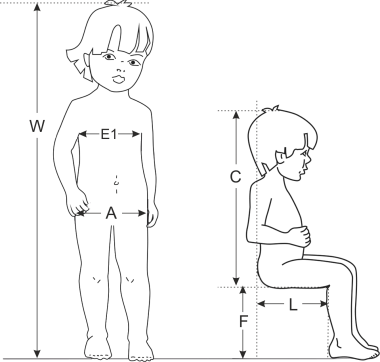 Size chart
Symbol
Size 1
Size 2
Size 3
Size 4
W
90 - 110 cm
100 - 120

cm

110 - 150

cm

150 - 170

cm

E1
25

cm

30

cm

37

cm

45

cm

A
25

cm

30

cm

37

cm

45

cm

C
44 - 60

cm

55 - 66

cm

58 - 74

cm

67 - 83

cm

F
26 - 30

cm

31 - 39

cm

37 - 49

cm

42 - 56

cm

L
23 - 29

cm

26 - 34

cm

30 - 40

cm

35 - 45

cm
Chair rotation