Rifton PACER Gait Trainer
The Rifton Pacer Trainer is ideal solution for people with disabilities. The Racer gait trainer provides outstanding support in learning to walk, maintaining momentum, and building muscle skills.
Express delivery

2 year warranty

Size:

1

2

3

4

5

User weight (kg):

23

34

68

91

113

Handles height from (cm):

39

47

61

81

86

Handles height up to (cm):

52

70

89

119

127

Breast support height up to (cm):

57

78

96

130

136

Walker weight (kg):

3.4

4.8

6.8

7.0

10.2

Width (cm):

52

57

66

71

80

Length (cm):

57

69

76

91

101

Height (cm):

32

50

69

98

104
Designed for a wide range of clients with varying abilities, Rifton Pacer gait trainers provide outstanding support in learning to walk, maintaining momentum, and building muscle skills.
When appropriately supported and positioned in a Pacer, thousands of people of all ages have enjoyed the benefits of gait training such as improved cognition, muscle development, and skeletal growth. The Rifton Pacer gait trainer is renowned for its modular design, durability, and flexibility.
Features: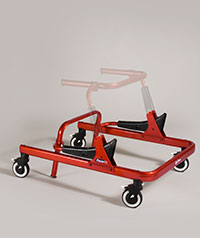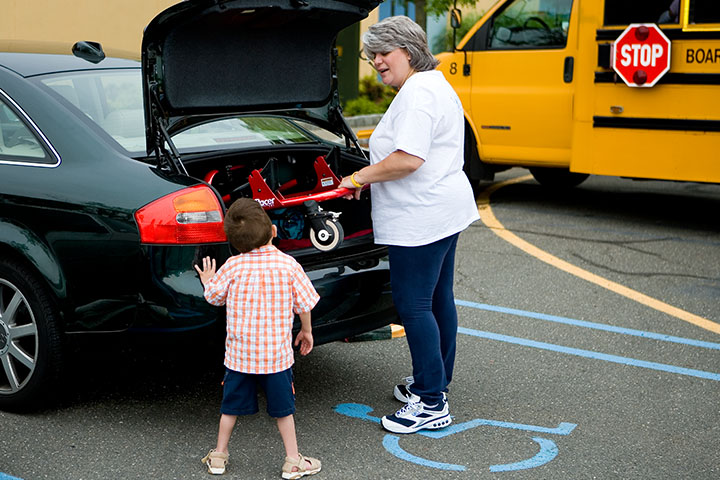 Foldable frame:
Medium, Large and XL Pacer walking frames fold for storage or transport, and can fit in most car trunks. To fit the frame in your trunk, some accessories may have to be removed. Use the black, two-handed release catches to fold or unlock the frame. Watch the video to see a demonstration. Mini and Small frames fit in most trunks without folding.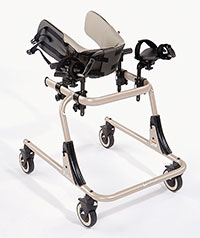 Easy rear access:
The Pacer is designed for easy rear access to make transfers into and out of this mobility walking aid as smooth as possible, whether the client will face forwards or backwards in the frame.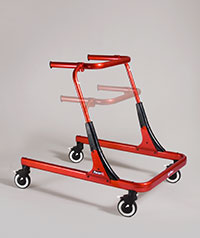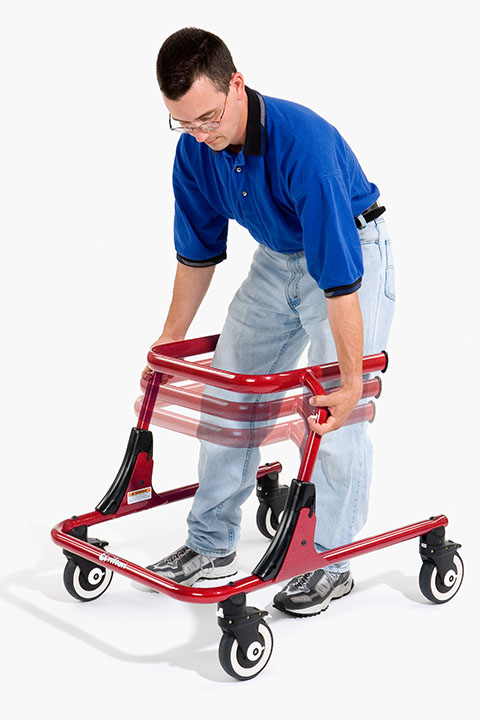 Height adjustable:
Rifton's Pacer mobility walking frames are height adjustable in 1" increments, with no tools needed. The frame's top bar should be set to the client's waist height. Watch the video clip for a height-adjustment demo and consult the dimensions chart for details of each Pacer size's range of height adjustment. (The Mini Pacer frame is not height adjustable, but hand loops, handholds, or arm prompts can be height-adjusted to meet the child's needs.)
Our unique, multi-functional casters do everything:
Variable drag: Use this to slow down fast-moving clients, prevent veering, or help clients navigate corners. Vary the drag by rotating the dial from zero to max.
Brakes: Independent of the drag function. To apply, depress bottom half of white brake pedal; to release, press top half.
Swivel lock: Each caster swivel-locks independently. Lock all 4 to help clients walk in a straight line, or just the two rear casters to eliminate sideways veering. Release swivel lock on all casters for movement in any direction.
One-way ratchet control: Set each caster to prevent involuntary backward movement. Works best when casters are also swivel-locked.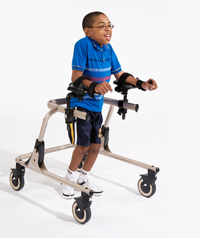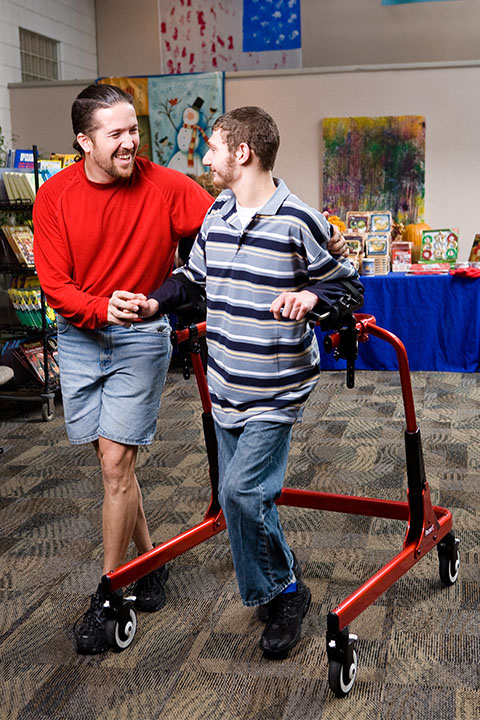 Posterior positioning:
Clients can be placed in the posterior position while getting training in the Pacer. Prompts and supports can be reversed and moved along the top bar of the frame to whichever position best matches the client's needs.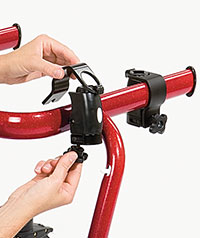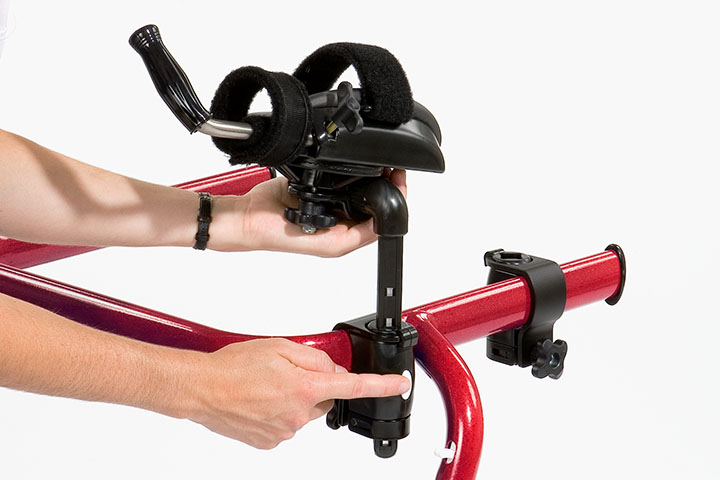 Prompts attach anywhere
Prompts and supports—such as arm rests and chest support—attach anywhere along the Pacer frame's top bar, and are easily removed when a client no longer needs them. This feature also allows the Pacer to be easily adapted to a successive client's needs in a school or institution setting.
Related products