The RIFTON PACER gait trainer can be used by those who are going from learning very basic walking skills (or those who don't have those skills) to more advanced levels. It is therefore an optimal piece of engineering for those who are both building up muscle in order to support their bodyweight and those learning to gain or retain momentum when walking. The RIFTON PACER has both sturdy construction and a flexibility beyond most gait trainers.
Supports that attach to the top bar of the RIFTON PACER gait trainer can act as stabilizers until they are no longer required thanks to successful physiotherapy. You can remove chest prompts and arm prompts from the frame as movements improve. The removal of these crutches over the course of therapy encourages the patient to improve their other motor skills and to build muscle. The adaptability of the RIFTON PACER means that it doesn't have to be used exclusively by just one patient: In a hospital or physical education setting, it can be used for a number of patients.
Temporarily remove just a few of the accessories and it's easily transportable in most four wheeled motor vehicles. To ensure that you will get the RIFTON PACER gait trainer and ultimately be satisfied, please contact us here at Special Needs Equipment either by phone or via the contact form.
Features: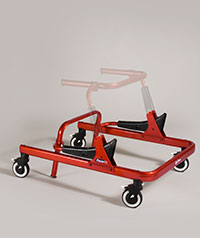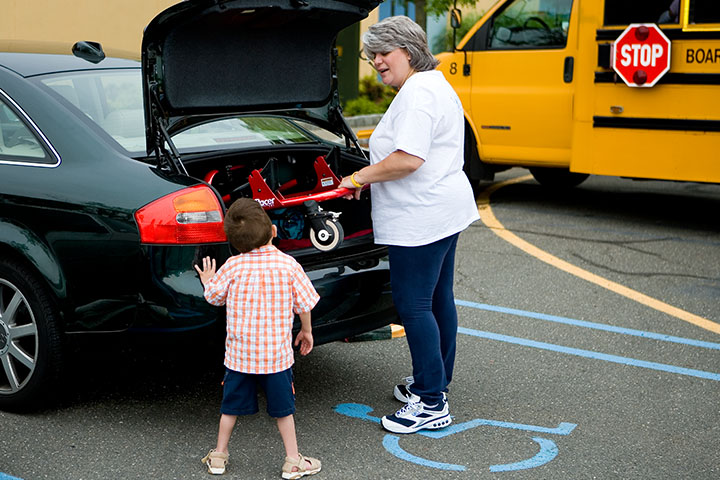 Foldable frame:
Medium, Large and XL Pacer walking frames fold for storage or transport, and can fit in most car trunks. To fit the frame in your trunk, some accessories may have to be removed. Use the black, two-handed release catches to fold or unlock the frame. Watch the video to see a demonstration. Mini and Small frames fit in most trunks without folding.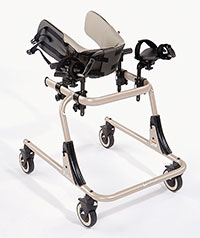 Easy rear access:
The Pacer is designed for easy rear access to make transfers into and out of this mobility walking aid as smooth as possible, whether the client will face forwards or backwards in the frame.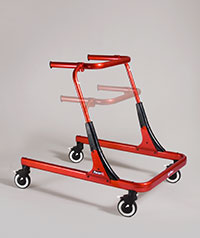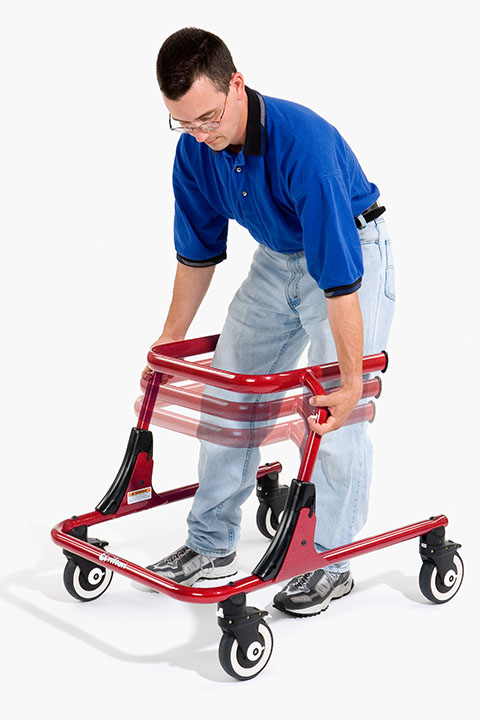 Height adjustable:
Rifton's Pacer mobility walking frames are height adjustable in 1" increments, with no tools needed. The frame's top bar should be set to the client's waist height. Watch the video clip for a height-adjustment demo and consult the dimensions chart for details of each Pacer size's range of height adjustment.
(The Mini Pacer frame is not height adjustable, but hand loops, handholds, or arm prompts can be height-adjusted to meet the child's needs.)
Innovative casters:
Our unique, multi-functional casters do everything:
Variable drag: Use this to slow down fast-moving clients, prevent veering, or help clients navigate corners. Vary the drag by rotating the dial from zero to max.
Brakes: Independent of the drag function. To apply, depress bottom half of white brake pedal; to release, press top half.
Swivel lock: Each caster swivel-locks independently. Lock all 4 to help clients walk in a straight line, or just the two rear casters to eliminate sideways veering. Release swivel lock on all casters for movement in any direction.
One-way ratchet control: Set each caster to prevent involuntary backward movement. Works best when casters are also swivel-locked.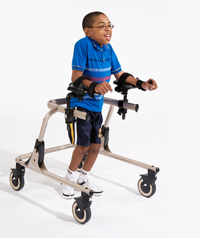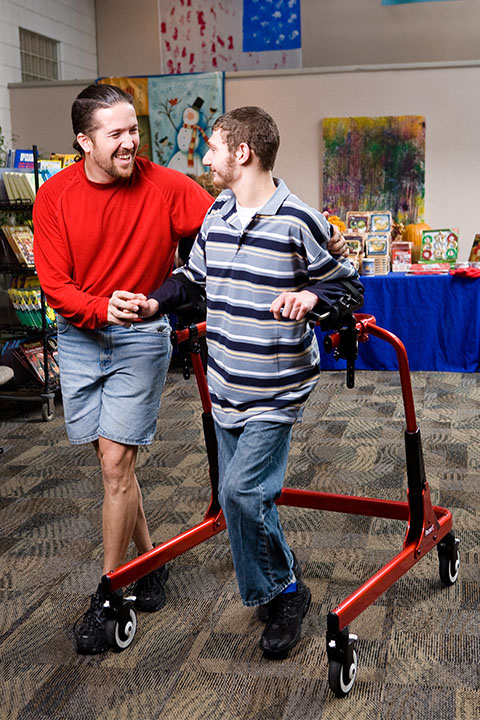 Posterior positioning:
Clients can be placed in the posterior position while gait training in the Pacer. Prompts and supports can be reversed and moved along the top bar of the frame to whichever position best matches the client's needs.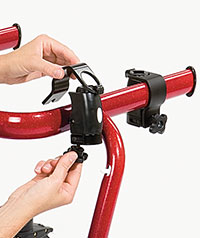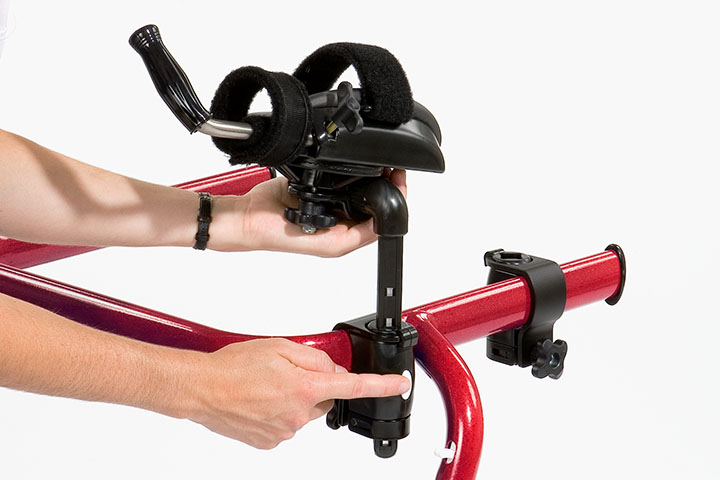 Prompts attach anywhere
Prompts and supports—such as arm rests and chest support—attach anywhere along the Pacer frame's top bar, and are easily removed when a client no longer needs them. This feature also allows the Pacer to be easily adapted to a successive client's needs in a school or institution setting.
Options: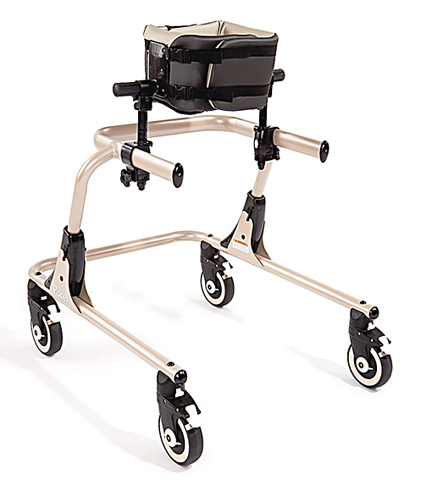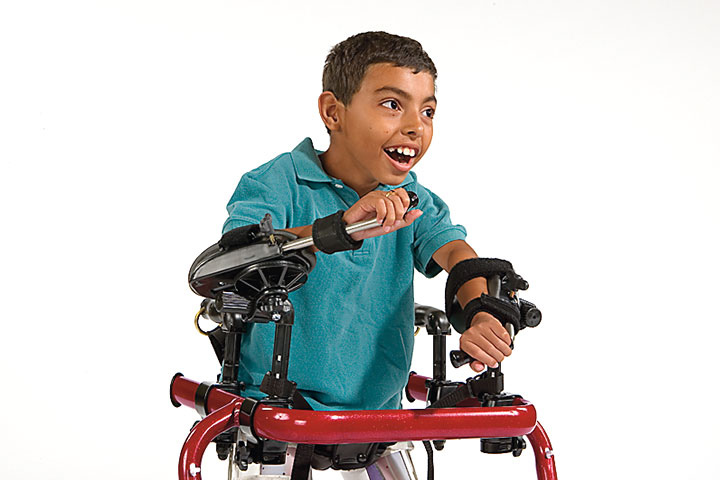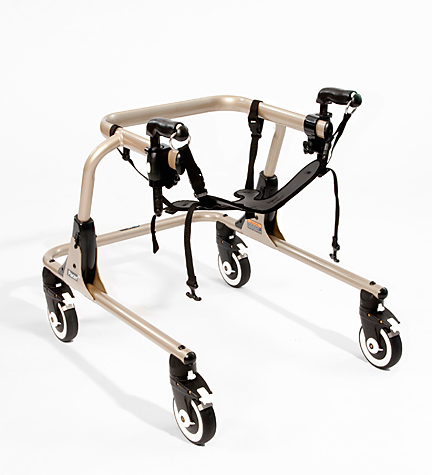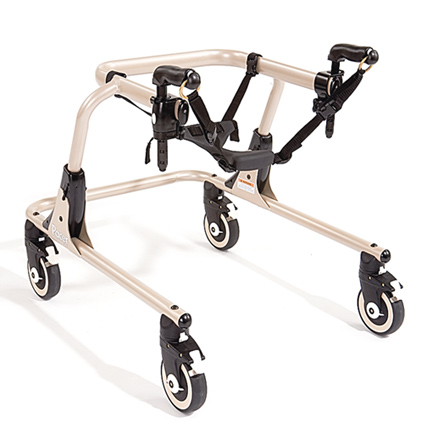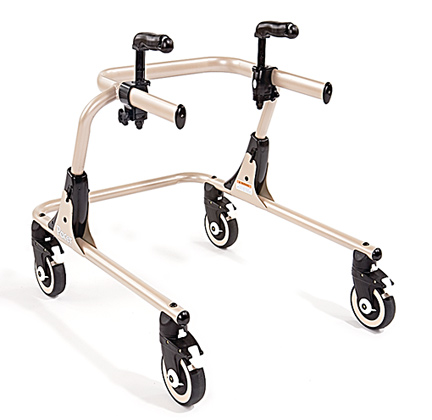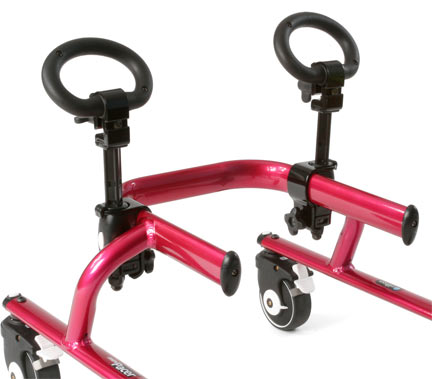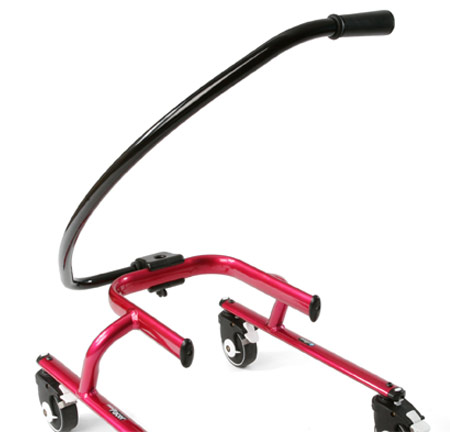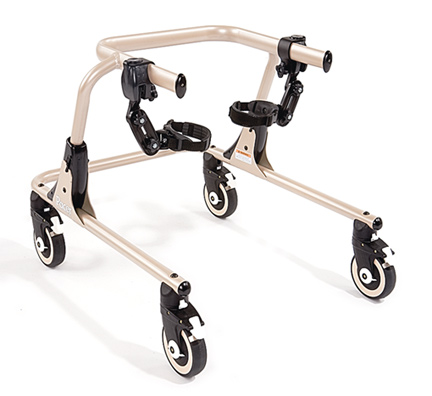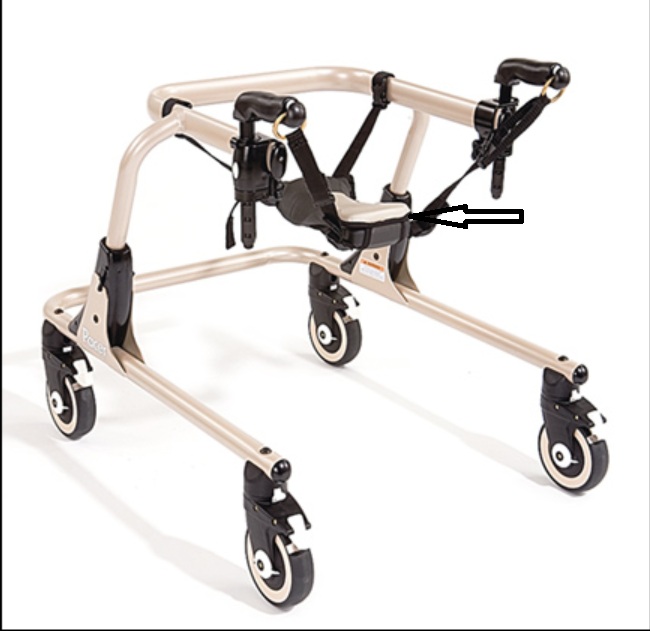 Key User Dimension: Elbow Height
Measure the vertical distance from the bent elbow to the floor while the user is standing upright. Choose the Gait Trainer model that allows for growth.
Important: Make sure that the chest prompt width allows for growth. User's weight must not exceed the maximum working load. Small or medium prompts are recommended for most users of the Medium Pacer.