Buggy for children with special needs EIO
The EIO Push Chair from Special Tomato is a special needs stroller unmatched in features, quality and price.
Included with the special needs push chair are every accessory available. So, you get everything for one low price! That's the lightweight push chair (only 22 lbs!) plus 12 wonderful features and accessories!
Why is the EIO Push Chair Perfect for Your Child?
It provides the best of both worlds! A mild to moderate positioning seat matched with a lightweight stroller with everything you could imagine INCLUDED!

Standard features include:
5-Point Comfort Wrap harness
Padded seat and back laterals
Canopy
Angle adjustable back rest (25 - 75 degr)
Water Bottle Pocket
Easy foldable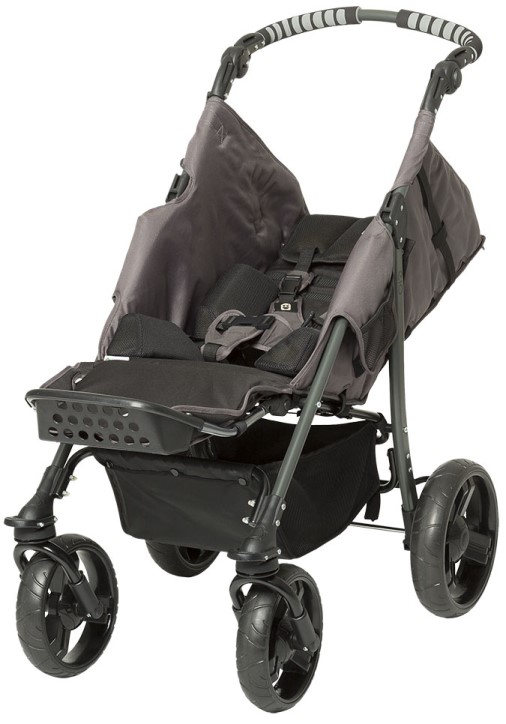 Padded head pillow
Angle adjustable footwell
One-touch rear brake
Shopping Basket
Swivel front wheels with lock out feature for rough terrain
Folds compactly for transport - you do not need to remove the rear wheels to fold it
Dimensions
| | |
| --- | --- |
| Size | EIO |
| Maximum Weight Capacity (kg) | 40.8 |
| Seat Width (cm) | 35.5 |
| Seat Deapth (cm) | 30.5 |
| Seat Back Height (cm) | 61 |
| Seat to Footwell - Stroller Only (cm) | 33 |
| Seat to Footwell - with Size 1 or 2 Liners (cm) | 38 |
| Seat to Footwell - with Size 1 Sitter (cm) | 40.6 |
| Seat to Footwell - with Size 2 Sitter (cm) | 43 |
| Handle Height to Floor - (cm) | 76-106.7 |
| Handle Height to Floor - degr | ±65° |
| Footwell Angle toFloor | +15° to -55° |
| Handle Height to Floor - degr | 25°-75° |
| Open Dimensions | 61x117x114 |
| Folded Dimensions | 61x94x61 |
| Weight of Stroller | 10 |
| Wheel Diameter (front & back) | 22.9/27.9 |
| | |
| --- | --- |
| Size | EIO |
| Maximum Weight Capacity (kg) | 40.8 |
| Seat Width (cm) | 35.5 |
| Seat Deapth (cm) | 30.5 |
| Seat Back Height (cm) | 61 |
| Seat to Footwell - Stroller Only (cm) | 33 |
| Seat to Footwell - with Size 1 or 2 Liners (cm) | 38 |
| Seat to Footwell - with Size 1 Sitter (cm) | 40.6 |
| Seat to Footwell - with Size 2 Sitter (cm) | 43 |
| Handle Height to Floor - (cm) | 76-106.7 |
| Handle Height to Floor - degr | ±65° |
| Footwell Angle toFloor | +15° to -55° |
| Handle Height to Floor - degr | 25°-75° |
| Open Dimensions | 61x117x114 |
| Folded Dimensions | 61x94x61 |
| Weight of Stroller | 10 |
| Wheel Diameter (front & back) | 22.9/27.9 |