BiLevel device Hoffrichter POINT2 with Nasal Mask COZY
BiLevel device Hoffrichter POINT2 with Nasal Mask COZY
The device generates two pressure levels in the S-, ST- or T–mode via an electrically controlled turbine.
Switching from one pressure level to another is realized via a quick change of the revolutions of the fitted high-performance blower to keep the stress for the patient as low as possible.
S-Mode
Spontaneous trigger – the change from one pressure level to another is triggered by starting respiration of the patient only. A decline in pressure to the set lower pressure level also occurs once the inspiration flow ends.
ST-Mode
Spontaneous breathing and Time – as long as the patient is breathing independently the device is operating in the S-mode. Once the patient stops breathing the device automatically switches into the T-mode and provides respiration for the patient in the prescribed safety frequency. The delay time after which the device switches into the T-mode can be set.
T-Mode
Time respiration with prescribed, set inspiration time. If the trigger function is deactivated the patient is ventilated according to the set parameters. If the trigger function is activated the device accepts only spontaneous trigger signals in the expiration phase.
3 FLEX-Levels separately for in- and expiration
Data management on SD-Card
Remarkable low noise level
Battery operation possible
Tidal volume display
Specifications:
Range
Steps
Point2
BiLevel
ST20
Pressure
4 hPa – 20 hPa
0.5 hPa
P-Ramp
4 hPa – Pressure - IPAP
0.5 hPa
P-Min
4 hPa – P–Start
0.5 hPa
P-Max
P–Start – 20 hPa
0.5 hPa
P-Start
P-Min - P-Max
0.5 hPa
I-FLEX
0 - 3
1 step
E-FLEX
0 - 3
1 Step
IPAP
EPAP – 20 hPa
0.5 hPa
EPAP
4 hPa – IPAP
0.5 hPa
I-Slope
1- 3
1 step
E-Slope
1- 3
1 step
Frequency
5 – 30 bpm
1 bpm
I:E
20 - 80 %
1 %
Delay Time
0 - 20 s.
1 s.
S-Frequency

On (10 bpm)

Off

Mask
Nose/Nose- Mouth/Pillow
Start-Stop Automatic Calibration
Start via ENTER
Automatic
Start-Stop/Start/Off
10 min.
Mask Test
0 - 90 s.
5 s.
Ramp
0 – 45 min.
5 min.
Display Vt
On / Off
Бактериален филтър
Да / Не
Brightness
0 - 100 %
10 %
Language
deu, eng, ell, spa, fra, ita, nld, tur, plk, por, cze
P- Unit
Hpa/mbar/sm H2O
Power
Counter
Blower

Counter

Filter

Counter

Therapy

Counter

Date
Day-Month-Year
Time
Hour-Minute
Waketime

Hour-Minute
Technical Data:
Dimensions:- 170 mm x 220 mm x 95 mm

(W

x L

x H

)

Mass:- 1.51 kg
Power supply:- 100 V - 240 V AC, 50 - 60 Hz
Power consumption- < 17 W
DC operation - 24 V DC / 2.1 A (max.)
Battery operation - 2 x 11.1 V / 2200 mAh
Pressure range - 4 - 20 hPa (mbar)
Pressure variation- < 0.5 hPa without humidifier; < 0,9 hPa with humidifier
Noise level - < 30 dB(A) at 10 hPa
Functions:
Counters- stand-by time, turbine running time, therapy time, filter age

Permanent display- pressure, bargraph, Date, time, softstart ramp, alarm clock tidal volume (Vt), battery charging symbol, pressure unit (hPa, mbar, cmH 2O)
Comfort functions- start-stopp-automatik, softstart ramp, leakage test, mask calibration, flex pressure adjustment I-Flex / E-Flex, automatic start after power failure, date-, time and wake-up function, mask alarm.
SD-Card
| | | |
| --- | --- | --- |
| Therapy data | Internal | SD card |
| Central apnea, obstructive apnea, mixed apnea, hypopnea | saved | saved |
| Airway constriction, snoring, hyperventilation | saved | saved |
| Leakage | saved | saved |
| Base Pressure | Only saved, when I- Flex or E- Flex are selected, but not active | Only saved, when I- Flex or E- Flex are selected, but not active |
| Therapy Pressure (low resolution). No FLEX pressure changes visible | saved | not saved |
| Therapy Pressure (high resolution), respiration flow, relative respiratory volume. FLEX pressure changes visible | not saved | saved |
| Storage Time | </= 30 days | </= 2 years |
Aquapoint 2 (Not Included)
Dimensions-(w x l x h) 100 mm x 145 mm x 109 mm
Mass approx.- 280 g (without water)
Power supply- 24 V DC
Power consumption- 0 - 22 W
Heating levels- 5 stages + off
Max. filling capacity- 220 ml
Powerpackpoint 2 (Not included)
Dimensions- (w x l x h) 160 mm x 45 mm x 70 mm per battery
Mass approx.- 300 g per battery
Power supply- 11.1 V DC per battery
Capacity- 2200 mAh per battery
Filtersystempoint 2
Dimensions- (w x l x h) 153 mm x 45 mm x 31 mm
Mass approx.- 50 g
Coarse filter- Polyurethan on polyester based 80 ppi (pores per inch), 30 kg/m³ (material density)
Fine filter- Polypropylen Precipitation of particles ≥ 1 µm: ≥ 89% at ω ≤ 1 m/s (particle velocity) ≥ 99% at ω ≤ 0,2 m/s (particle velocity)
Nasal mask COZY Vented
An interface is a device or system that unrelated entities use to interact.
However, it seems important in Continuous Positive Airway Pressure (CPAP) or Bi-level CPAP (BiPAP) treatment due to most CPAP or BiPAP users start out with a basic mask design that is recommended by their doctor or respiratory therapist. As the user gets used to sleeping with the CPAP or BiPAP machine, they may find the masks are unable to adjust the mask enough to minimize air leakage, maintain the prescribed air pressure and maximize comfort. Understanding the importance of interface, we designed the masks with various features and also defined them into three different levels. The Cozy brings the mask constructions into a simple way, with a patent pending assembly method, Cozy has a much easier way to attach and detach the silicone cushion from frame.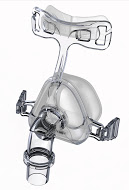 360° rotational elbow: Preventing tube being pulled or dragged.
Sampling port: Allows for measuring pressure EtCO2.
Medical liquid silicone construction.
Extra comfort cushion: Provides stable, superior and absolute comfort.