Rehab stroller RACER™ is used for children whose movement possibilities are limited. It may be used in the rehabilitation centre and at patient's home.
Stable construction perfectly stabilizes the patient and it gives him a sense of security. What is more, it enables the correct sitting position and the child has a chance to rest in the reclining position. Parent is able to take the child to rehabilitation and go for a walk thanks to which the child has the possibility of spending time outdoor. There is no doubt that this special stroller makes life easier for parent regarding care and feeding and, moreover, the child can actively spend time with his family. It is equipped with a vast array of adjustment thanks to which the user feels comfortable in the device. Additionally, the transport of this buggy is easy due to collapsible construction. Concerning upholstery, it is made of breathable and washable fabrics.
Special features
The device ensures adequate stability and safety of Patient.
The product has reflective elements to ensure your safety.
We offer 24 months warranty on the product. We also provide after sales service.
The device is equipped with breathable, hypoallergenic 3D spacer fabric. Now you can be sure that the skin stays dry for longer!
Intuitive way of adjustment and easy assembly.
Rear wheels with shock absorbers provide comfort even on bumpy terrain.
Rotatable abduction block ensures even better fit to the needs of the user.
The pelottes ensure safety during walks.

Indications
Cerebral palsy – various types and forms.
Brain and spinal cord injuries with lower limbs paralysis and weakness, balance and motor coordination disorders with different etiology.
Demyelinating disease (e.g. multiple sclerosis – SM).
Meningocele.
Muscles diseases with weakness and paralysis (dystrophy, myasthenia gravis, myositis).
Genetic disorders.
Degeneration and neurological diseases.
Other condition connected with muscles weakness, paralysis and musculoskeletal disorders.
After head and spinal cord injuries and spine trauma with paralysis and paresis.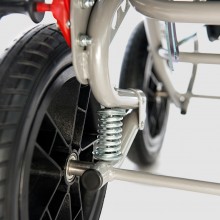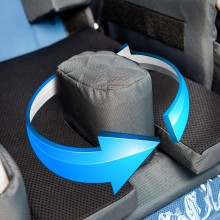 Standard equipment

Foldable frame
Solid as well as light silver frame
Constant tilting function
Control over correct user's position
Easy and quick to fold as well as unfold stroller
Small size after folding
Footrest
Equipped with 5 points belts fastening feet with heel stabilization and abduction-adduction angle adjustment
It is possible to adjust the height of footrest
Handle for pushing stroller
Ergonomic handle for pushing stroller
It is possible to adjust the tilt angle of handle
Aesthetic finish
Seat cushion
Soft as well as profiled foam padded with 3D knitting
Easy to assemble on seat
Abduction block
Separating leg function
Secures patient from falling out of stroller
Aesthetic finish
Different configurations for the adjustment of abduction block on seat
Adjustable backrest
It is possible to adjust backrest's tilt angle
Side pelottes
Profiled foam edged with washable upholstery
It is possible to have control over correct position of user in stroller
It is possible to adjust pelottes on backrest at any height
Easy to assemble on stroller's backrest by means of Velcro tapes
Vest
Secures the patient from falling out of the stroller
Has a vast array of adjustment which makes it easier to adjust it to the user
Made of washable fabric
Concerning standard equipment, it is possible to exchange vest for pelvic belt
Headrest
Profiled shape of headrest
Edged with washable upholstery
Easy to assemble on backrest with the aid of elastic belt
It is possible to adjust headrest at any height on backrest
Aesthetic finish
Safety rail
Safety rail secures patient from falling out from the stroller, makes it more comfortable and safe to use stroller
Easy to assemble
Edged with washable upholstery with reflective elements
Cover for folding mechanism
Soft foam inside side covers protects patient from hitting on stroller's frame
Fastened with the aid of zipper
Front wheels
Inflatable wheels
Rims are strengthened with fiberglass
Stroller is equipped with Light Grey rims. However there is possibility to change the rim's colour to black free of charge.
Side covers for calves
Soft foam inside side covers protects patient from hitting on stroller's frame
Easy assembly and disassembly – side covers are fastened on frame by means of Velcro tapes
Aesthetic finish
Edged with washable upholstery with reflective elements
Rear wheels
Inflatable wheels with separate brakes
Rims are strengthened with fiberglass
Basket under the seat
Roomy basket for toys, handy objects etc.
It is possible to fold stroller together with basket
How to measure: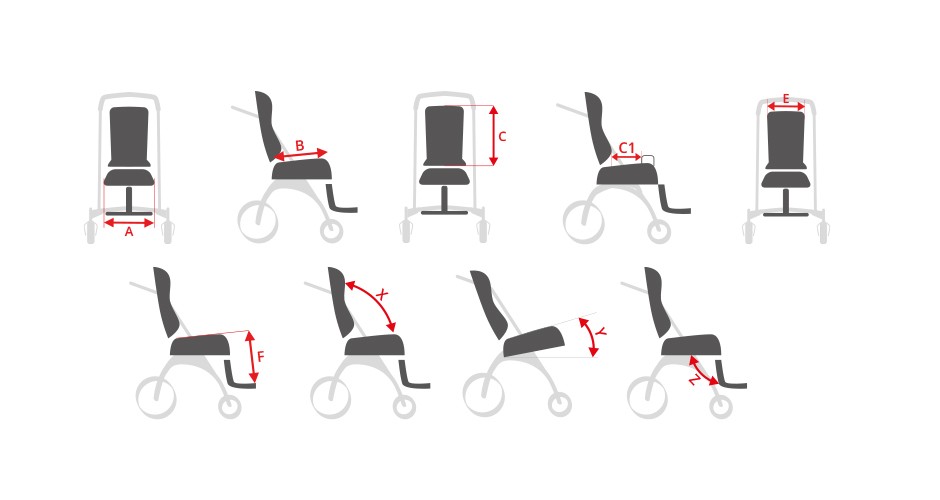 Dimensions: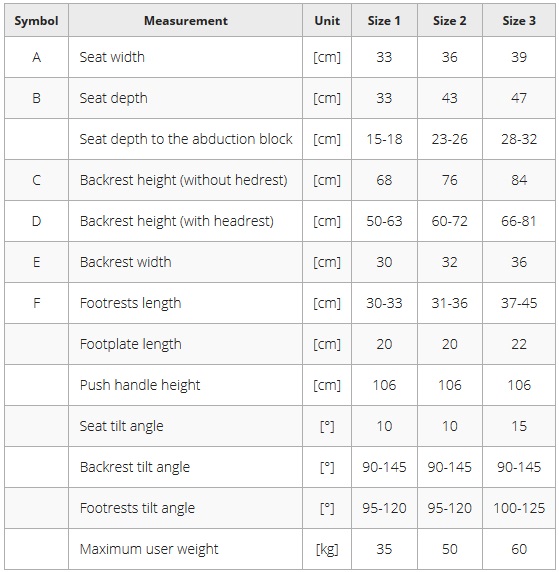 Product dimensions: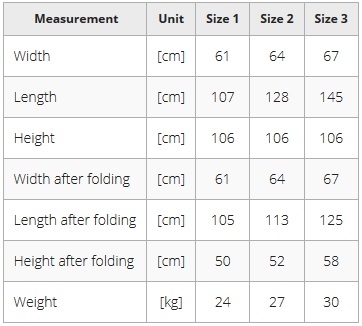 How to measure: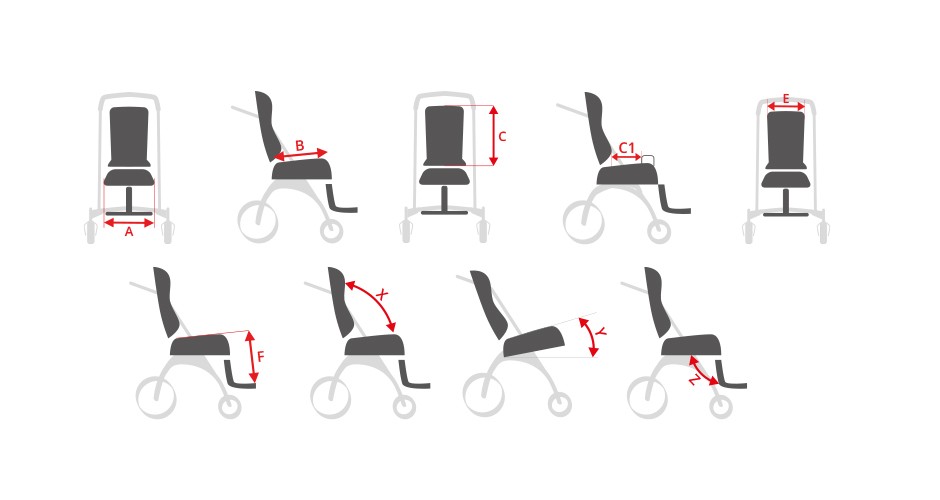 Dimensions: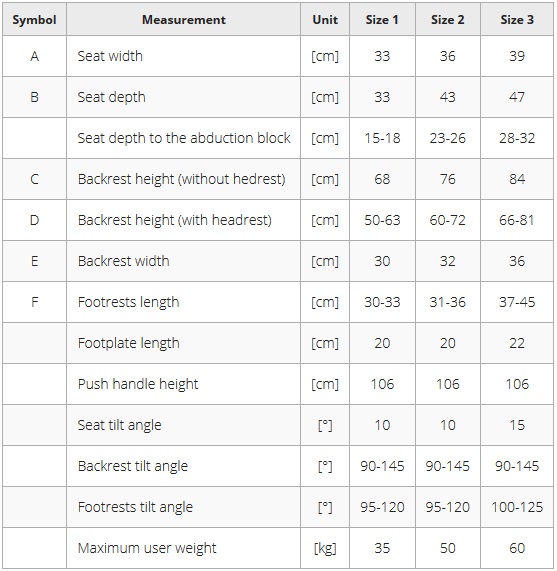 Product dimensions: