Special Tomato Soft Touch SITTER with mobile base
TOMATO SOFT TOUCH Sitter / sitter with mobile base
The Special Tomato Soft-Touch Sitter Size 1 is the ideal choice for adaptive seating for children ages 1-2.
This soft-to-the-touch seat provides a seating experience for a special needs child that is comfortable and functional. The Soft-Touch Sitters are made from a Latex-Free, Seamless material that is impermeable to fluids and guaranteed to be peel and tear resistant. Special Tomato Soft-Touch Sitters have a strong exterior that will stand up and last, while the inside is a soft, comfortable foam ensuring a comfortable seating experience every time.

Why is the Special Tomato Soft-Touch Sitter Perfect for Your Child?
5-point harness
Contoured head and lateral supports
Build in abductor
Attachment straps for securing to a standard chair
Impermeable to fluids
Easy to wipe clean
Latex Free Material with built in Anti-microbial Protection
Peel and Tear Resistant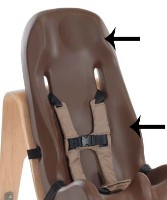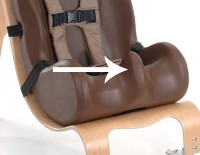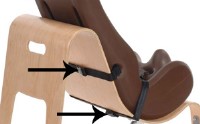 Dimensions:
| | | | | | |
| --- | --- | --- | --- | --- | --- |
| Size | 1 | 2 | 3 | 4 | 5 |
| Target Age | 1-3 | 3-6 | 6-9 | 9-14 | 13- |
| Target Weight (max) (kg) | 9-18 | 13-27 | 18-36 | 22-50 | 40-90 |
| Target Height (cm) | 75-100 | 87-120 | 100-140 | 125-162 | 135-185 |
| Inside Seat Width (cm) | 20 | 25 | 30 | 35 | 40 |
| Inside Seat Depth (cm) | 17.5 | 23.5 | 28.5 | 33.5 | 40 |
| Seat Back Height (cm) | 52.5 | 65 | 72.5 | 82.5 | 97.5 |
| Overall Seat Width (cm) | 30 | 35 | 40 | 45 | 50 |
| Overall Seat Depth (cm) | 30 | 35 | 40 | 47.5 | 52.5 |
| Overall Seat Height (cm) | 62.5 | 72.5 | 85 | 95 | 110 |
| Weight of Seat (kg) | 2.7 | 4.5 | 5.9 | 7.25 | 8.6 |
| | | | | | |
| --- | --- | --- | --- | --- | --- |
| Size | 1 | 2 | 3 | 4 | 5 |
| Target Age | 1-3 | 3-6 | 6-9 | 9-14 | 13- |
| Target Weight (max) (kg) | 9-18 | 13-27 | 18-36 | 22-50 | 40-90 |
| Target Height (cm) | 75-100 | 87-120 | 100-140 | 125-162 | 135-185 |
| Inside Seat Width (cm) | 20 | 25 | 30 | 35 | 40 |
| Inside Seat Depth (cm) | 17.5 | 23.5 | 28.5 | 33.5 | 40 |
| Seat Back Height (cm) | 52.5 | 65 | 72.5 | 82.5 | 97.5 |
| Overall Seat Width (cm) | 30 | 35 | 40 | 45 | 50 |
| Overall Seat Depth (cm) | 30 | 35 | 40 | 47.5 | 52.5 |
| Overall Seat Height (cm) | 62.5 | 72.5 | 85 | 95 | 110 |
| Weight of Seat (kg) | 2.7 | 4.5 | 5.9 | 7.25 | 8.6 |